I've gotten a lot of flack for my love of ABBA. Take my word for it: I've listened to a whole lot of the Swedish four piece trying to figure out exactly why out of all the groups from the disco era, it's ABBA that gets the short end of the stick. Their contemporaries like the Bee Gees and Donna Summer are now seen as innovative pop trailblazers. Meanwhile, I'm the weird one when I say that it was ABBA who were the most consistently talented over the course of nearly a decade, and remain one of the most important acts of the seventies.
I think the main justification people have for their hatred of ABBA, at least here in the United States, is that they're seen as schmaltzy, cheesy, Euro-pop, and are seen as a direct juxtaposition or rival to some of the more interesting, "dangerous," speaker-blasting mainstream rock acts that were also peaking at around the same time. I'm not going to disagree with most, that, as a band, ABBA are probably one of the least threatening out there. In fact – I can't think of a single song in the band's catalog that could even begin to push the limit of someone's speaker system, but I will argue to the day I leave this planet that ABBA created some of the most well-crafted pop music ever, so they didn't need to blow you away with shredding guitars or explosive performances like many other bands.
If you've read this far, that means you probably want some proof in the pudding pops – after all, it's not everyday that someone 'round these parts can make the claim that ABBA is a great band, and get away with it unscathed. So let me give you some proof. Instead of using cheap tricks or gimmicks, ABBA utilizes some fundamental laws of music that are too often overlooked – relying on three items which are crucial to pop music song-craft: 1) progression, 2) counterpoint and harmony, and 3) balanced performances and production.
Most popular music is based around a few chords in a specific order called a progression. There are hundreds of chord progressions, but a select few get re-used because they stick in people's brains. Thanks to most of their songs being composed on piano instead of guitar, ABBA's songs run the gamut from straight up pop chord progressions to really weird and unique progressions that still somehow make the song unbelievably catchy. For instance, the progression that drives "Knowing Me, Knowing You" is more of a straight up pop/rock progression – in technical terms, it's a I-IV-V progression, or in simpler terms, it's written in D Major, so it goes D-G-A like some other songs that you may know and since it's the 1-4-5, it can be transcribed up and down the keyboard and it would still sound great. Other tracks – like "Money, Money, Money" might sound just as standard to most, but further investigation shows that no two "Money" phrases are sung exactly the same (they use different combinations of A, B, and C). These are only two examples, but, despite some tracks sounding similar, no two tracks (or choruses, or verses) were the same, making ABBA masters of using chord progressions and manipulations.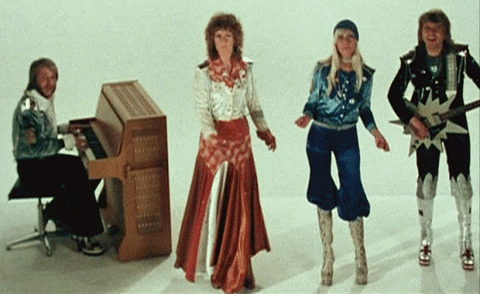 Any band can write a chord progression that sticks, but not every band can write melodies that weave in and out of each other around those progressions. With four members who could all sing in perfect unison, ABBA were able to effectively use both harmony and counterpoint – both instrumentally and especially vocally to bring dynamics into play in relatively simple pop songs. The choruses of many of their songs are built around this interplay of the female to male vocals, and ABBA used their four vocalists to their advantage in nearly every song they wrote throughout their career. It was one of the main reasons why their songs remain so irresistible to the ears – like in "When I Kissed the Teacher," or "Take A Chance on Me," or "On and On and On" their voices flowed and countered each other so well that double tracking probably wasn't even needed. This highlighting of vocal performances and using vocals as an instrument in a pop composition is the same sort of technique used in doo-wop tracks, but especially comes to mind as being reminiscent of The Beach Boys and their outstanding vocal harmonies.
The production on ABBA's singles and albums was always consistently top notch; all the way through their career, they always crafted technically superior studio productions. During their early days, ABBA fancied themselves as closer to a glam-act than anything else, with some Wall-of-Sound inspired production on tracks like "Ring Ring," or "Waterloo" where the song just leaps off the page, so to speak. As they moved into the peak of their commercial fortune in the mid 70s, they began to play with more interesting synthesizer sounds, but always made sure to keep the perfect balance between the powerful two-or-four part vocals, piano, and rhythm section. That makes tracks like like the imitable "S.O.S" so magnificent – it's the balance between the instruments in the production that helps maintain repeated listens. As ABBA capitalized on the disco craze during the late seventies, their production values still remained consistent, in songs like "Angel Eyes," and "Voulez Vous" the piano began to take a backseat to the club-ready beats and frosty synths, but the production was still great for its time.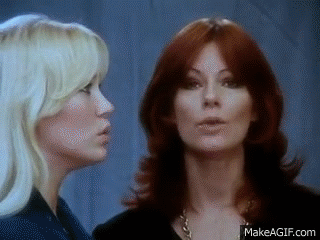 When you look at their discography, it becomes clear that ABBA were one of, if not the premiere act of the mid to late 70s around the world. Their fortunes in the United States were mixed – they only had one #1 hit in the States (it's "Dancing Queen,"), and that's probably was only true because they consistently ran into distribution and promotional issues with getting their music out to a larger audience over here. Those who did "take a chance" often did not appreciate their music – they saw it as too European, too disco, too poppy, and too cheesy (funny how things never change). Still, "Dancing Queen," with its disco beat and harmonized vocal as a hook, remains ABBA's signature song, and provides a great introduction to what the band was capable of.
Things were really great for ABBA despite their limited success in the States from about 1974-1979, but things got really, really uncomfortable after the two couples broke up. Their career from 1980-1982 was a mixed bag, too often falling back on corny over-the-top ballads, but their final album, The Visitors has always been my favorite album in their discography because you can actually feel the tension between the members in the recordings. With the men writing most of the songs and the women singing them, thinly veiled messages about the couples splitting up began to come through, and that obviously made everyone not really want to be involved anymore.
So yeah, I listen to ABBA. I get in ABBA phases where I listen to a lot of ABBA, and you know what, I'm not ashamed. Their superior song-craft and intelligent compositions makes their songs (or greatest hits) worthy of a meaningful and unbiased listen. You may prefer something a little more complex or hard-hitting, and that's fine, just don't hate on these four Swedes.
Check out my Essential ABBA playlist below–